Finding the perfect commercial vehicle can make a huge difference in streamlining operations and maximizing efficiency. However, making the right choice among numerous options can be overwhelming.
In this article, you'll learn more about what is considered a commercial vehicle, its various types, and its unique features. Read below to help you choose the best one for your business needs.
What is a Commercial Vehicle?
According to Article 1 of Executive Order No. 877 (EO877), this classification refers to motor vehicles with four or more wheels that transport goods, merchandise, or passengers. These vehicles are valuable for various enterprises and industries. They are the wheels that keep businesses rolling and thriving.
EO 877 further divides commercial vehicles into distinct classes based on weight and capacity, which are pivotal in regulating road usage and ensuring safety standards. Navigating the intricacies of these classifications is essential so you can choose the optimal commercial vehicle that aligns with your operational demands.
For instance, light-duty commercial vehicles, including vans and pickups, are ideal for local deliveries or smaller-scale transport needs. As the weight and capacity increase, medium- and heavy-duty types of commercial vehicles, such as freight trucks, should be your choice of vehicle since they can accommodate more substantial loads and longer hauls.
7 Types of Commercial Vehicles
You'll find several commercial vehicles in the market. As such, choosing what suits your needs can be challenging. Each vehicle has unique features that cater to specific business types. So, whether you're just starting a trucking business or already on your way to expanding it, knowing how each vehicle differs can help you make the right purchase decision. 
Utility Vehicles
1. Utility vans
This type of commercial vehicle can serve multiple purposes and switch between passenger transport and cargo storage. Its versatile seating configurations can accommodate riders comfortably and carry merchandise simultaneously. These vans also often come with customizable shelving units for organizing tools and equipment while on the move.
Best for: Businesses that require shuttle services and small-scale deliveries, as well as traders who need transport and tool storage in one vehicle.
Use this vehicle for:
Service and repair
Delivery and logistics
Retail and e-commerce
Mobile services
2. Special-purpose vehicles
These commercial vehicles can provide creative solutions to unique business challenges and often have specialized equipment and layouts. Examples include fire trucks, cement mixers, boom trucks, ambulances, and mobile medical units.
Best for: Businesses with unique applications or services, such as mobile medical clinics or ambulances, construction firms, and power supply companies.
Use this vehicle for:
Healthcare and medical services
Construction services
Fire and rescue operations
Cable services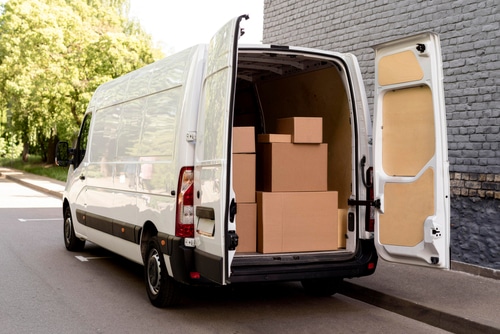 3. Cargo vans
With their compact but spacious design, cargo vans can easily navigate city streets and deliver packages and goods to various destinations. As such, these commercial vehicles are an excellent choice for urban logistics.
The rear sliding doors offer swift access to the cargo area, simplifying the loading and unloading processes. Meanwhile, customizable shelving systems make for an organized mobile warehouse.
Best for: Urban businesses engaged in local deliveries, retail logistics, and services requiring versatile cargo transport.
Use this van for:
E-commerce and delivery services
Small-scale moving of furniture, equipment, etc.
Photography and film production
Food and beverage distribution
Trucks
4. Pickup trucks
Pickup trucks are another versatile type of commercial vehicle. Their spacious beds provide ample room for hauling various materials, including tools and equipment. With an open bed design, they can alternate between personal and business use.
Best for: Contractors, landscapers, and businesses needing a versatile vehicle for short-distance hauling and daily tasks.
Use this truck for:
Landscaping services
Home improvement and remodeling
Agriculture and farming
Adventure tourism with outdoor recreational activities
5. Box trucks
Also known as cube vans, these commercial vehicles provide an enclosed space for goods that need the utmost protection during transit. Their weather-resistant exterior can shield your merchandise from outside factors like dust and raindrops.
Best for: Companies that specialize in the safeguarded transportation of items.
Use this vehicle for:
Moving and relocation services
Furniture retail and distribution
Waste management and recycling
Commercial storage
6. Semi-trucks
This type of commercial vehicle is one of the most important for economies across many countries. They have substantial load-carrying capacity and efficient aerodynamic designs for long-distance freight transportation. As such, semi-trucks are vital in global logistics.
Best for: Global supply chains, intercontinental freight hauling, and businesses engaged in extensive cross-country logistics.
Use semi-trucks for:
Agriculture and food production
Construction and heavy equipment
Retail and consumer goods
Manufacturing and distribution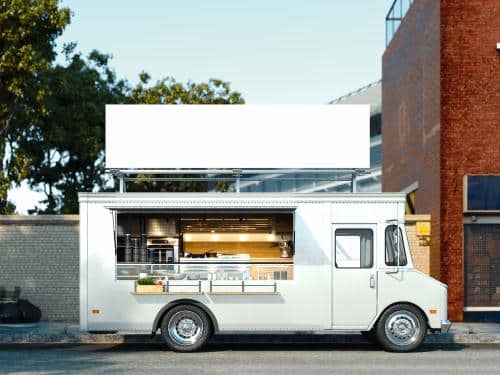 7. Multi-stop trucks
Multi-stop trucks (or step vans) are efficient for businesses with frequent stops during trips. Their well-organized compartments ensure that each cargo type has a dedicated space, streamlining the loading and unloading process. Plus, they have multiple compartments that can accommodate diverse cargo loads.
Best for: Couriers, delivery services, distributors with varied cargo types or requirements, and food truck businesses.
Use this vehicle for:
Mobile food and catering
Parcel and package delivery
Bakeries
Uniform and linen services
On the Road to Success with the Right Commercial Vehicle
Choosing the right vehicle is a crucial strategy for improving your business. From versatile utility vans to powerful semi-trucks, aligning your unique needs with the distinct features of each type can propel your operations. With the perfect commercial vehicle by your side, you can drive business growth and ensure its long-term success.
Asialink Finance Corporation offers truck loans for various commercial vehicles. Contact us for truck financing!